Sorry for the delay!
Here they are, the final picture set!
Also next week will role out a new way to purchase this kit and more. So if you have any interest please wait till the announcement. Thanks for the support!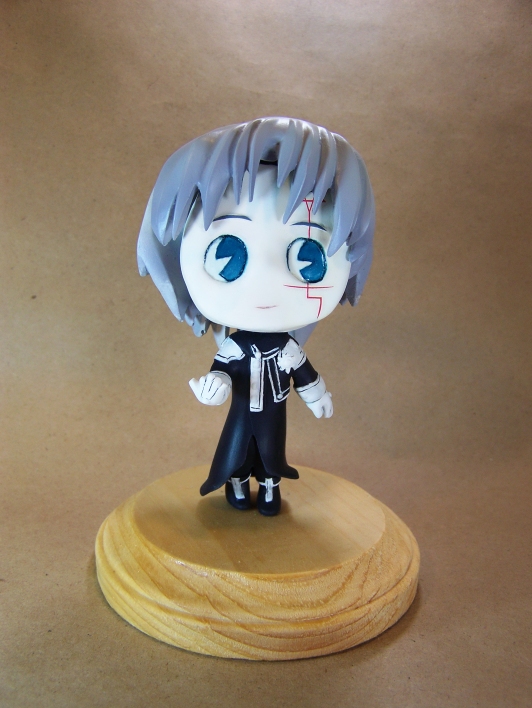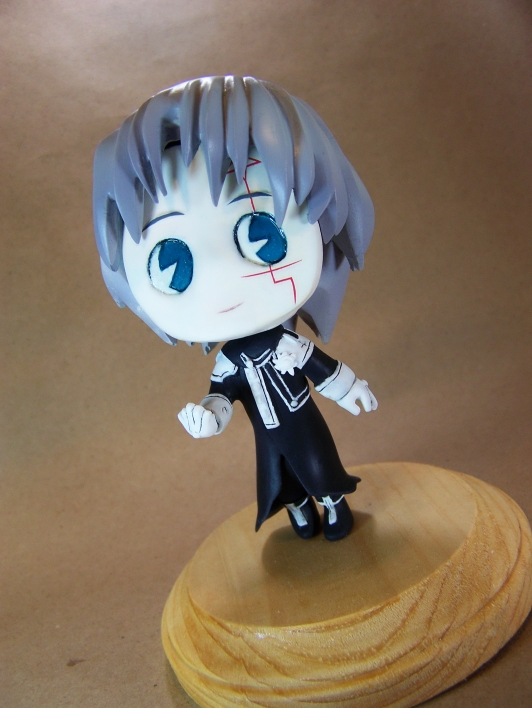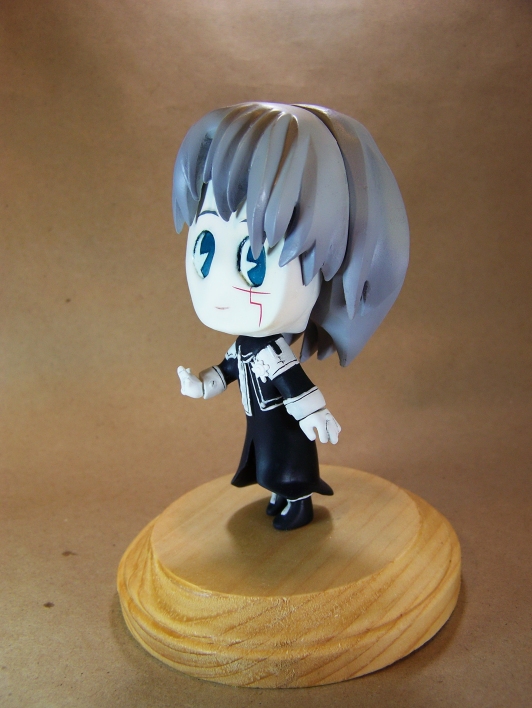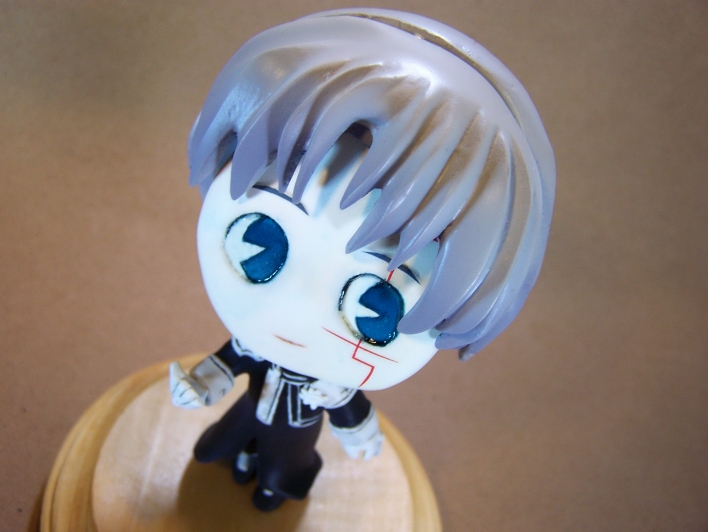 OK head is finished! Here it is!
First off I masked the eyes off.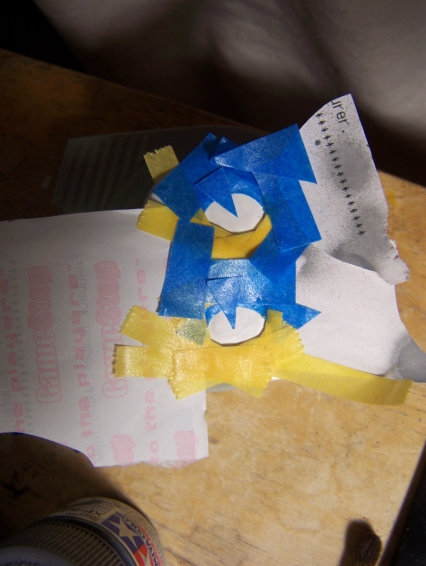 Sprayed teal acrylic
Then added white to the paint and did some gradient on the eyes.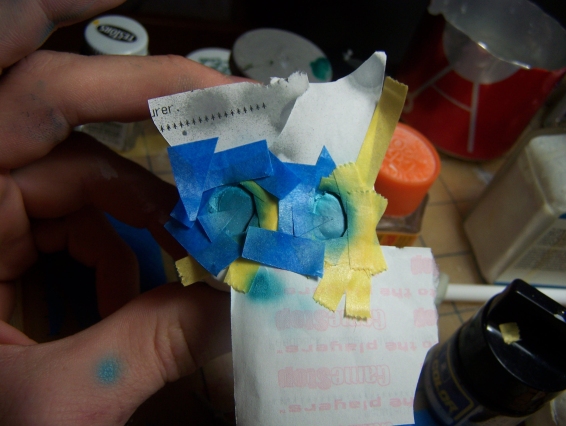 Took the mask off And for some reason there was a small chip that came off. Well have to fix it. So I placed white enamel on the spot to make it level off with out sanding it.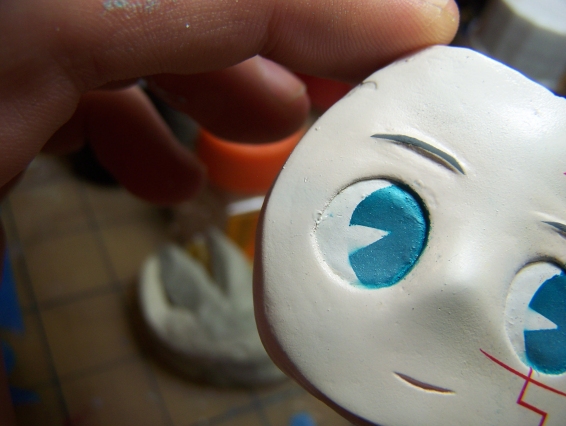 Then masked it off to spray skin back on it.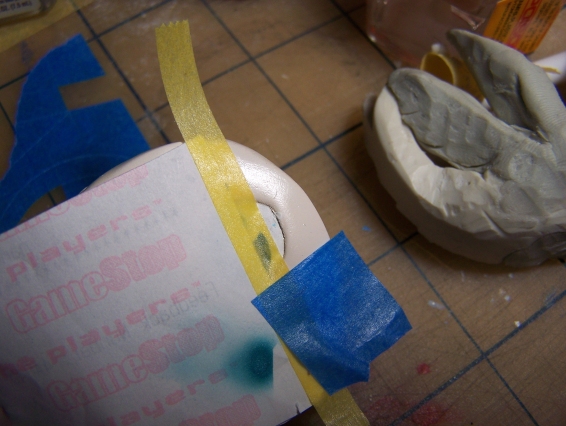 Then took it off and look it is fixed!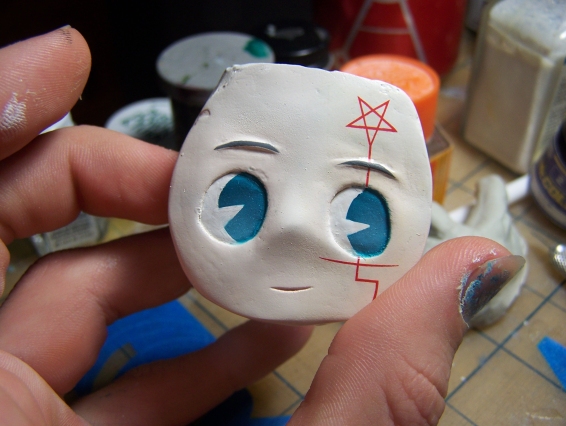 Then mixed up some dark teal to accent the eyes. used gray enamel and color oil paint.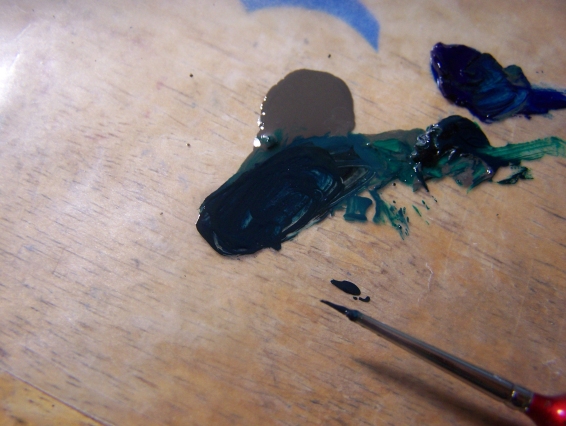 then applied it on the eye.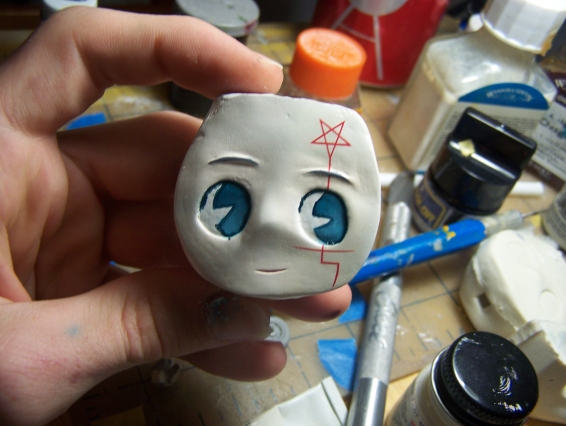 needs someclean up but that is why I used enamel.
after clean up.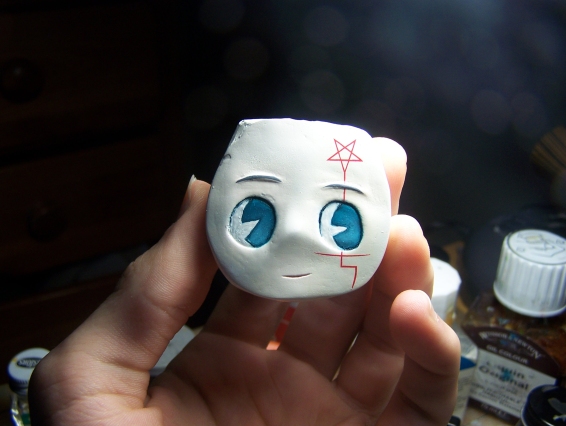 Then applied flat on the face.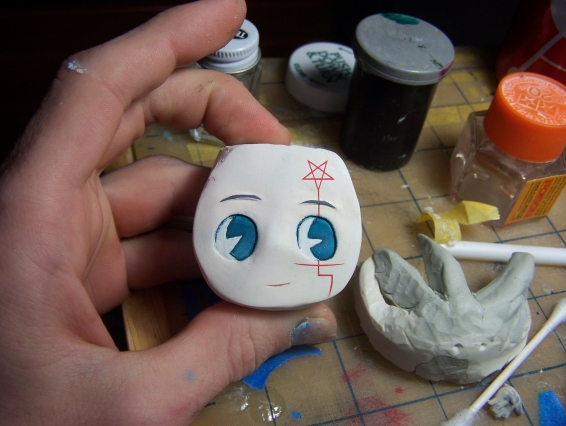 But flat eyes suck! So I took a DUMP load on the eyes with my bottle of Future.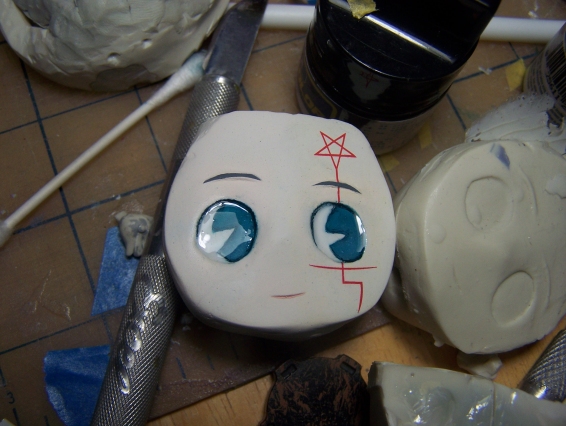 :3
Well put all the head pieces together tomorrow!
Promised a face update today. But forgot I did the eyes in acrylic so going to wait till morning before I spray lacquer over it.
Anyways here we go!
Cast is nice, No defect or bubbles on the front side.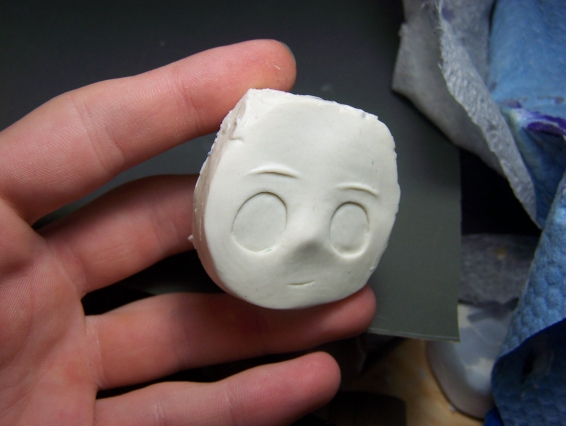 But on the side, that is a different story.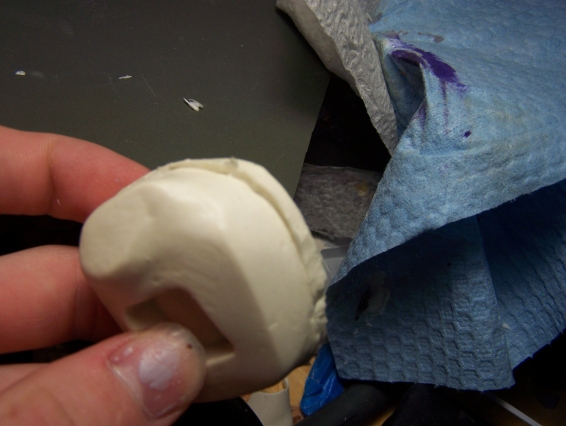 Doh! Didn't have the mold positioned right so got a large gap. No worries Putty to the rescue!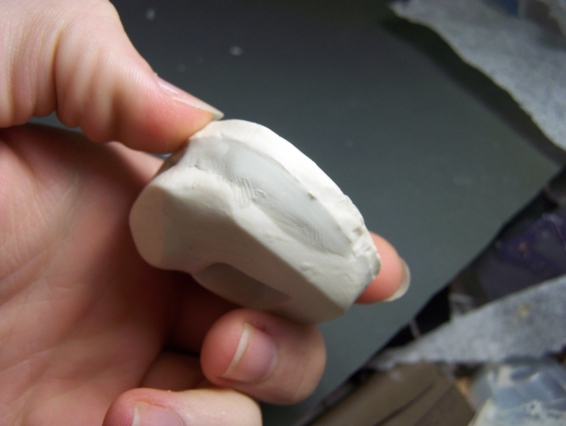 Primed to make sure it was ok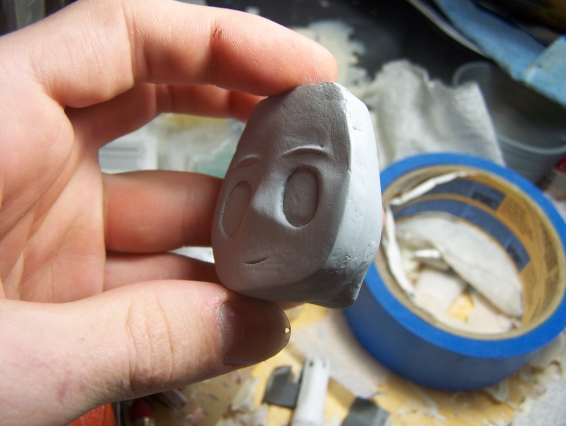 Was good for me so I sanded the rest down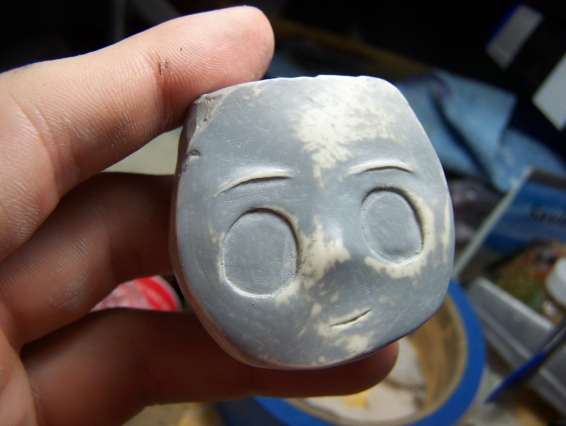 Then sprayed white primer over it.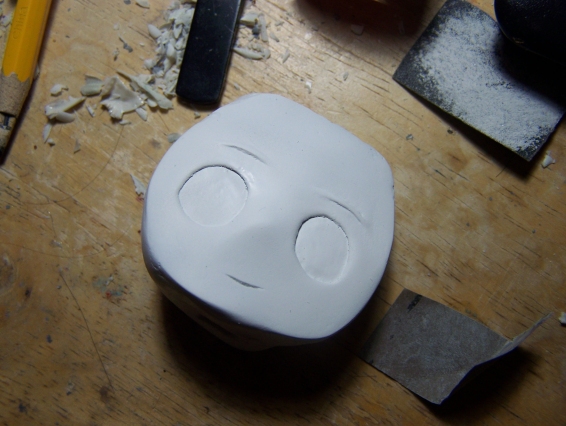 To ensure that the whites of the eyes will be WHITE I masked them off before I lay down the skintone.
First I placed tape over the face and traced the eyes with a pencil.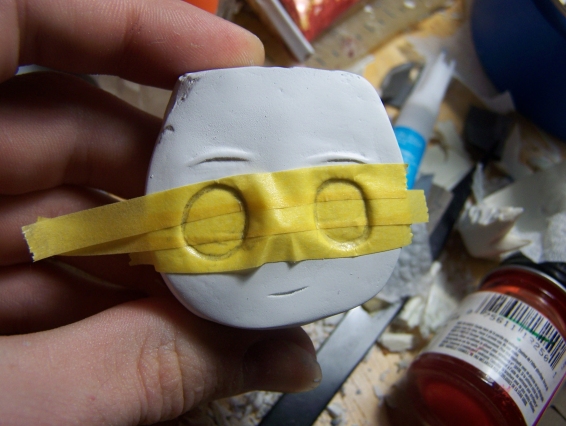 Then got a FRESH blade for my knife and cut along the pencil marks.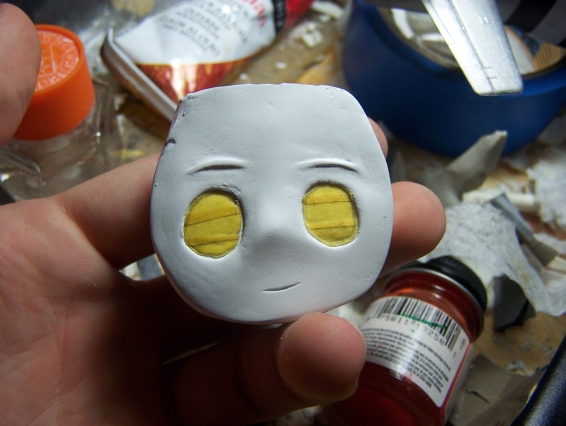 Then the masking tape is removed.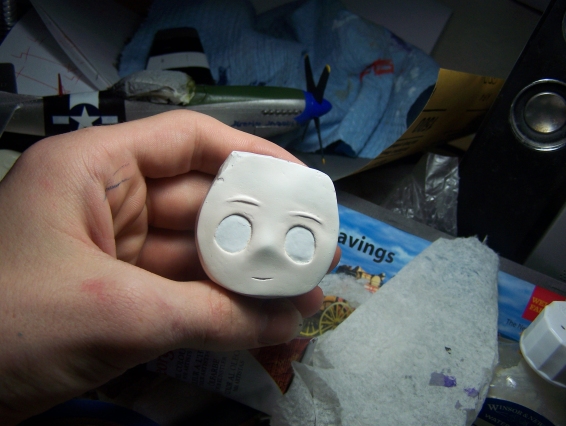 I then layed down the first layer of skin tone. This is my own custom mix. Which does not say a lot because I just made it one night when I felt I needed to make a jar or skin tone.
Layer A is shadows.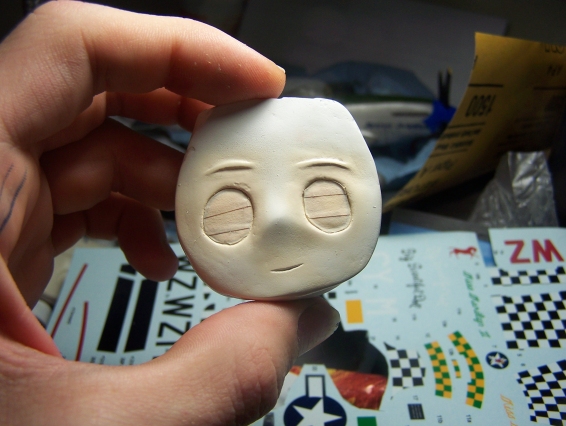 Then a lighter layer B is sprayed all over. This portion is part clear so layer A becomes darker and the piece more defined. though with it being gloss it is hard to tell.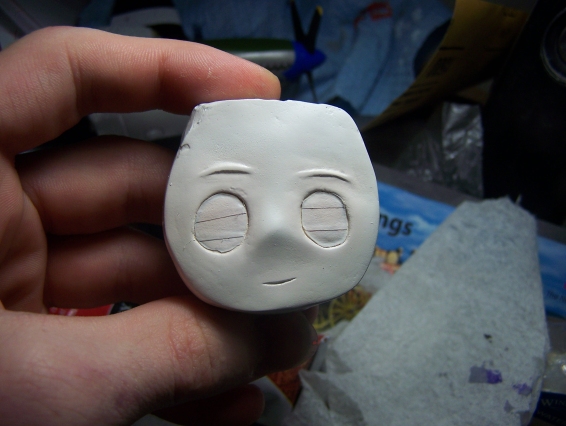 Allen's scar is then placed. This is tricky since it is a whole piece of decal. Place the decal in water for 20-30 seconds then take it out and place the paper on the face, then slide the decal off while you pull the paper down. Position it. Then place decal set on it so It can conform to the shape of the face.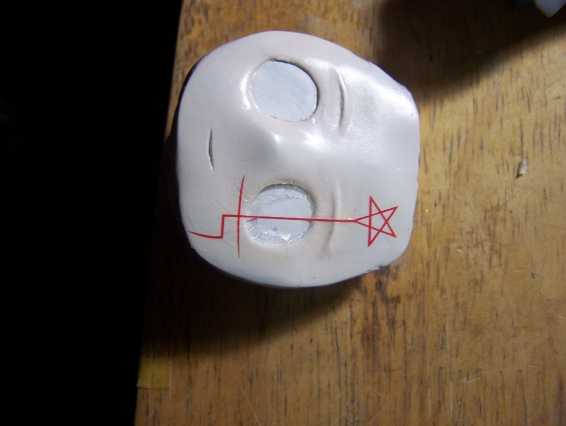 Then the portion over the eye is cut off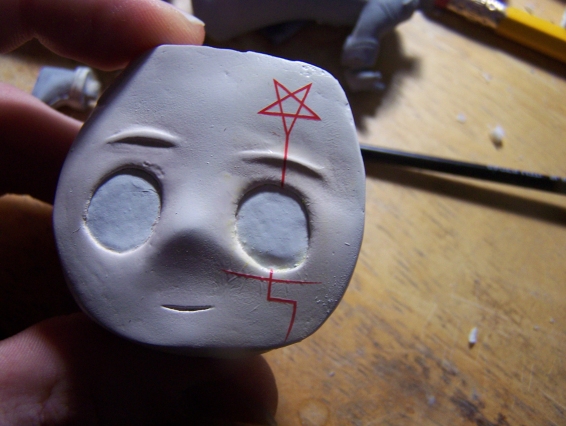 I then clear coat gloss over it (lacquer)
Next I mix up the mouth color with white enamel and red and yellow oil paint.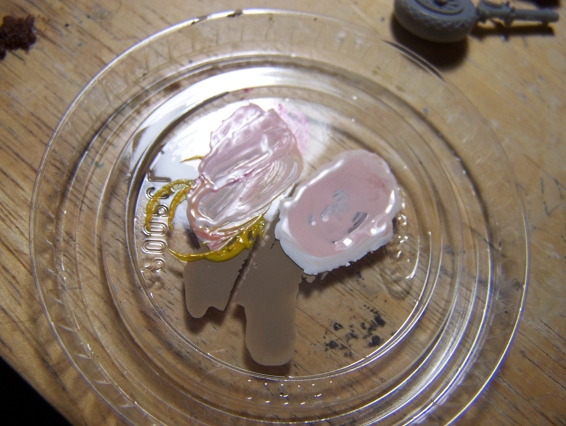 Then with this brand new 0/5 brush I bought(really nice, should have bought one earlier)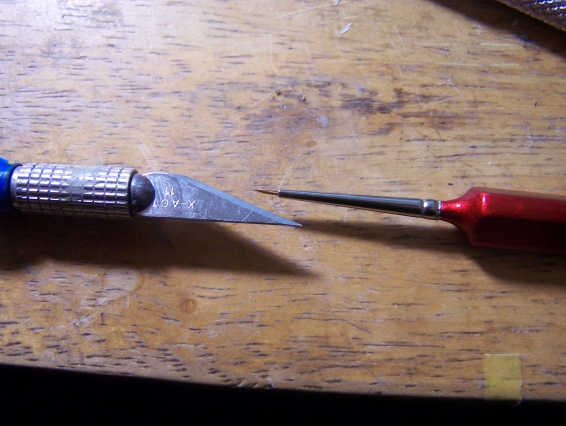 Anyways with that I place the paint in the mouth and wipe off any excess with mineral spirits
Next I do the eyebrow. Be careful with this as putting tape over the decal can rip it off if the decal was not set flat.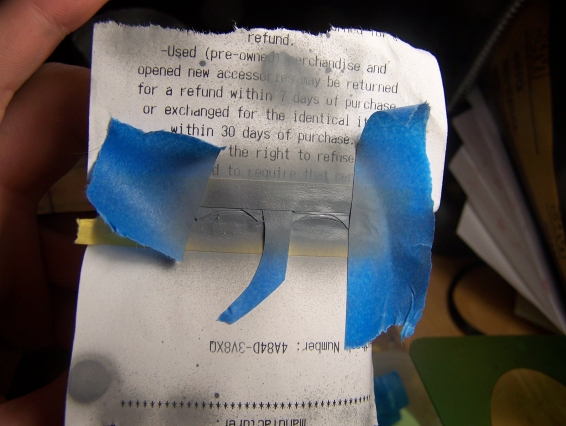 Then the tape is removed.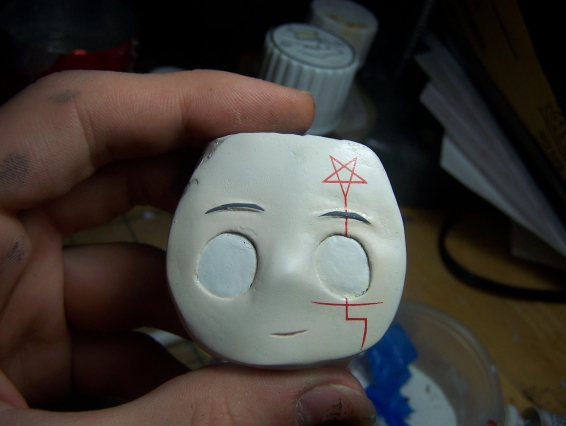 Touched them up a little but came out good.
Ok part 2 will be tomorrow.
Legs got done before the head so posting them first.
Should have the head done tomorrow.
First just laid them out, no bubbles.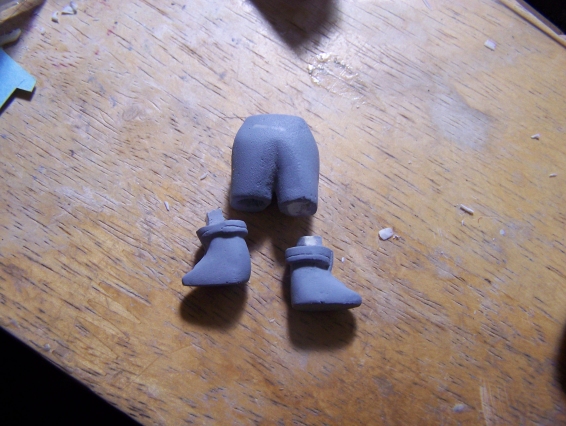 Painted the feet white then handpainted black on the top.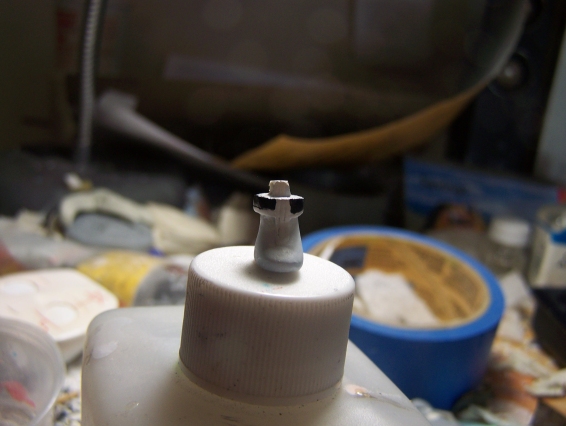 then masked the top portion and the strip in the middle.
Then sprayed down more black. Sorry for blurry photo.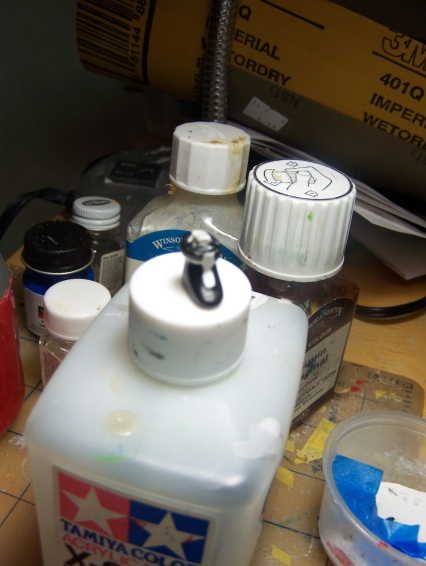 Then got out my epoxy glue. Comes in two parts and you mix them.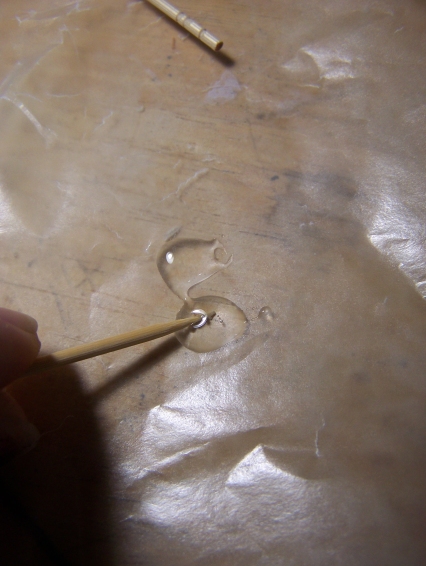 Glued both feet into the leg portion.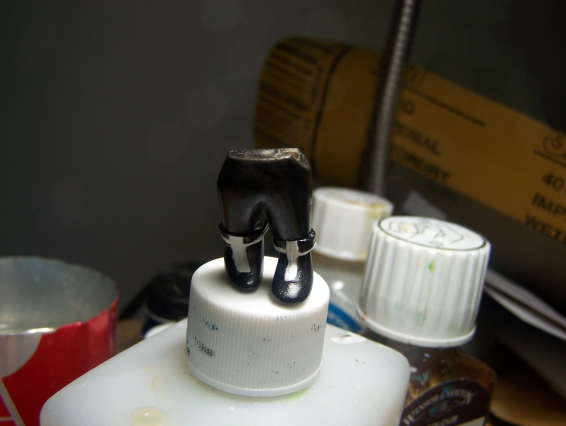 Then clear coated it and put some enamle black into the lines of the stripe. Found out they could have been a little deeper. But oh well.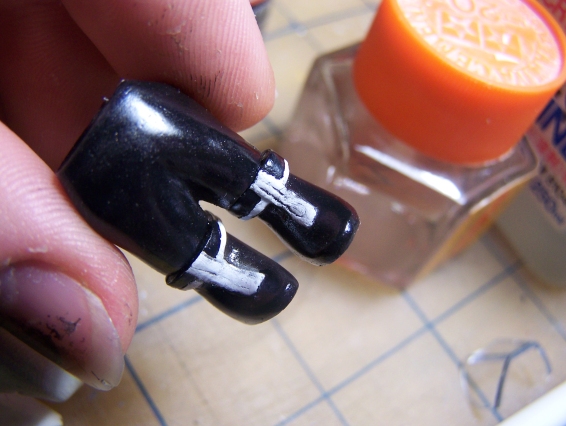 All for now.
Time for the back hair!
I know this process is strange but the other parts are almost done too just not ready for a post.
ok anyways
Again another giant bubble on the top. So filled in that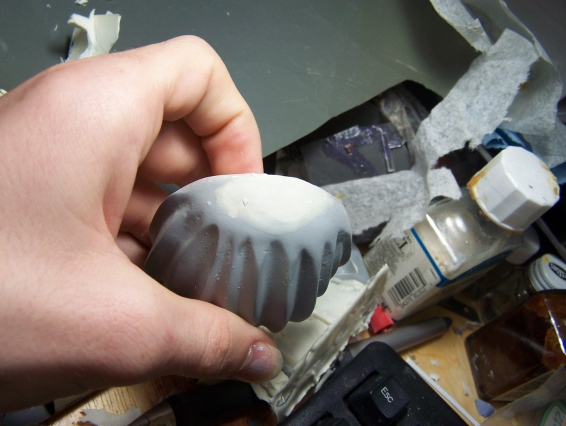 sanded that down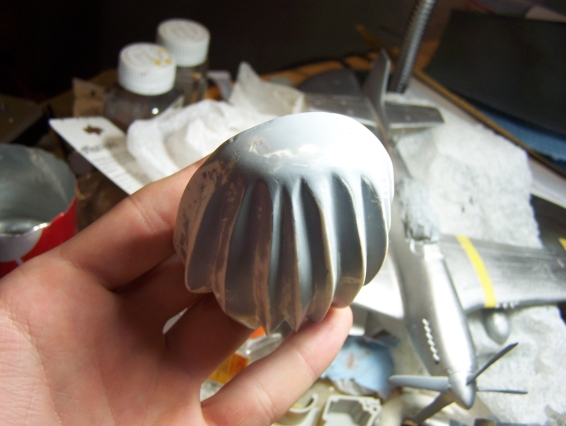 Got the white primer out and sprayed that white.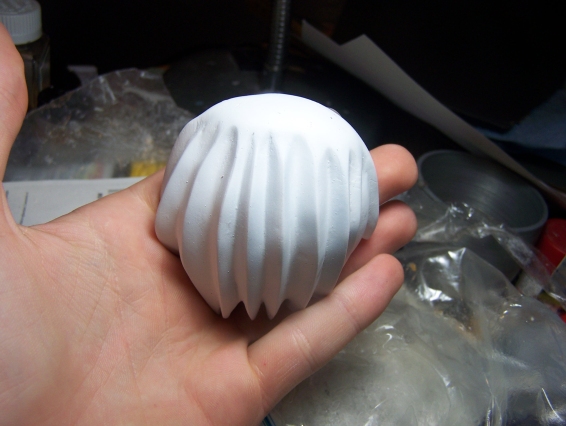 then back to using the base hair color.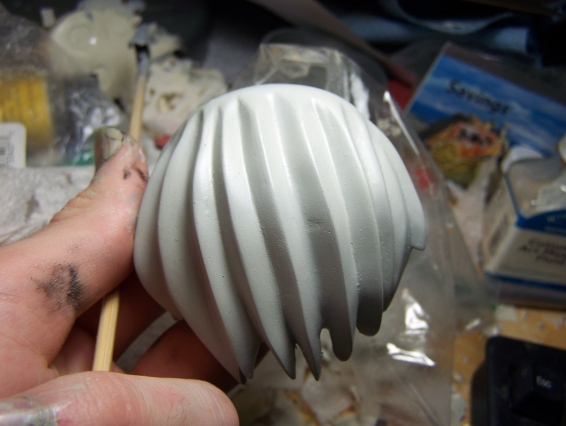 Then sprayed secondary color sprayed on the bottom of the strands and on the back of the strands.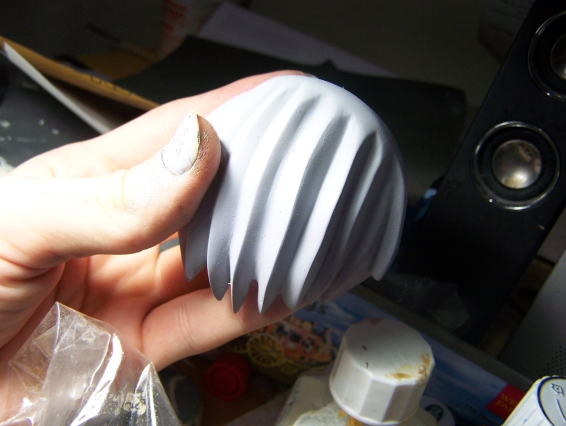 all for now!
Ok don't mind the weird ordering of this wip so I only post when that part is finished.
Anyways sorry it took so long to start this. After spending a year and a half crafting it. The thought of doing that again to paint it made me want to gag so I delayed it and started working on another project. well that project is at a resting place so going to set that down and work on this for a little and then pick the other one back up and finish it.
ok start!
First post will be about the front head piece.
First off I removed all the flash and gates. And sanded those areas down.
Primed it to check for defaults. There was also a large bubble at the top of the head so I filled that in with putty. Now I am using rejected parts from the casting prosess so ones purchased will not be this bad.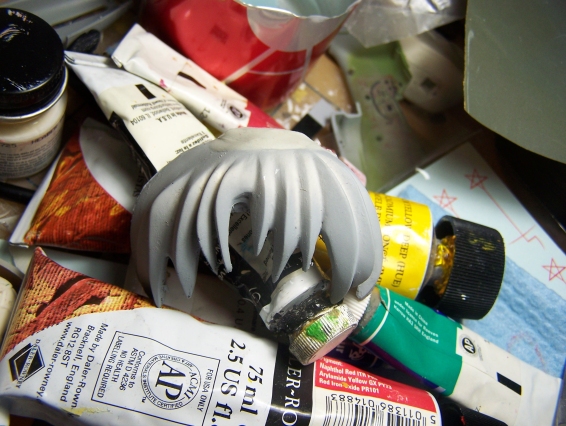 This one had a few air bubbles so I patched those up with superglue and plastic bits that I pointed inside the holes.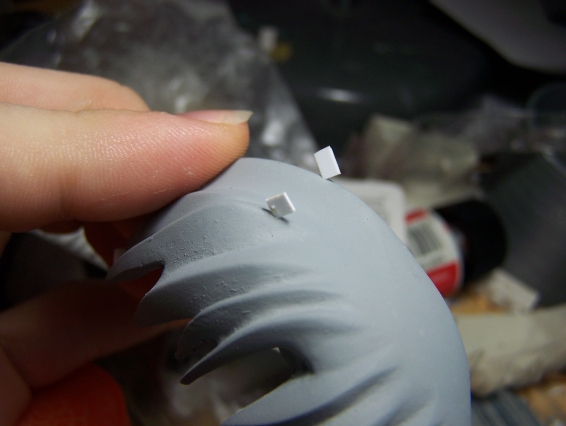 then cut those down and sanded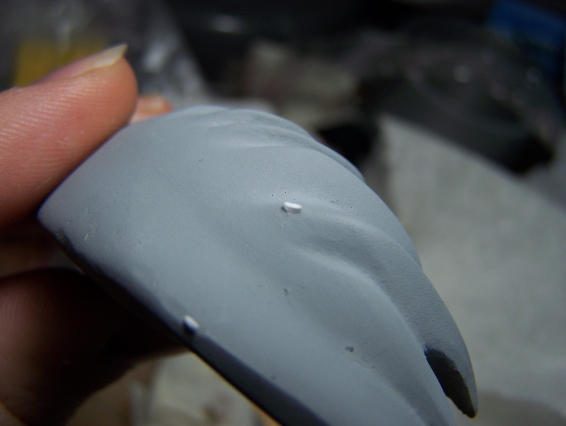 Sanded the surface then painted white over it.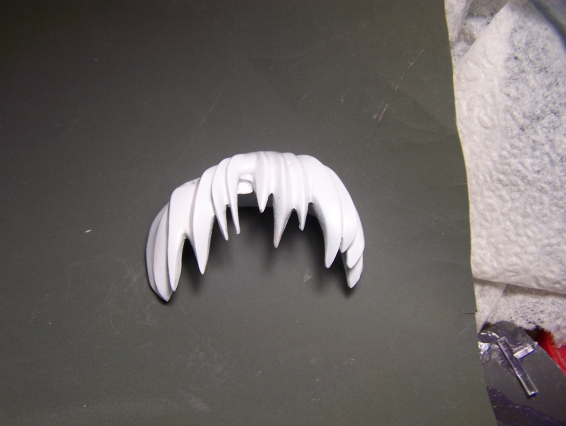 Mixed up the primary hair color with black and white paint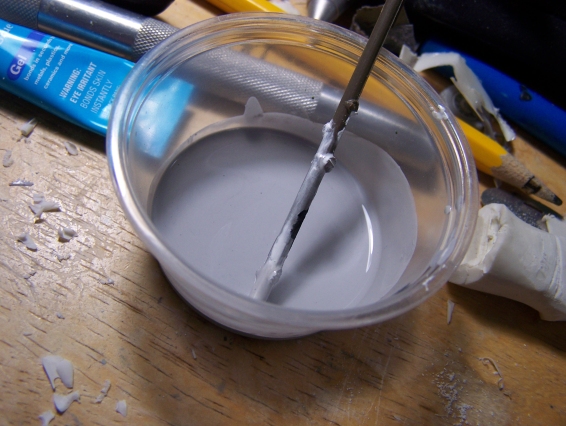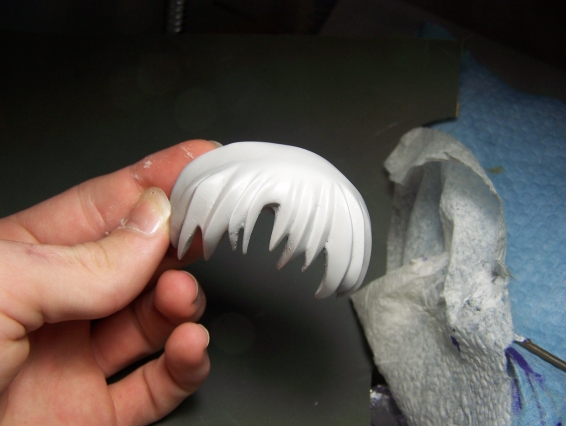 then I made the secondary color, Added purple to it as well as more black, this will be sprayed on the bottoms of the hair pieces and then fade up.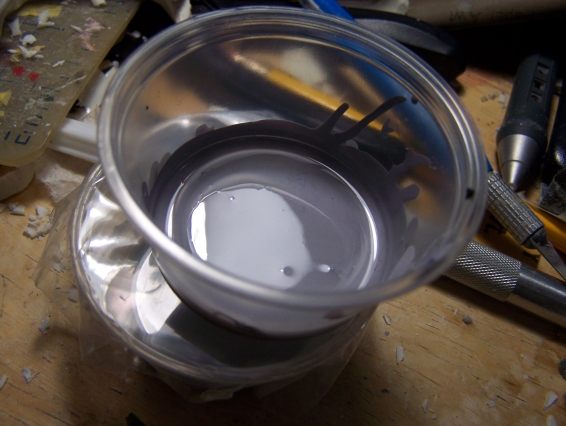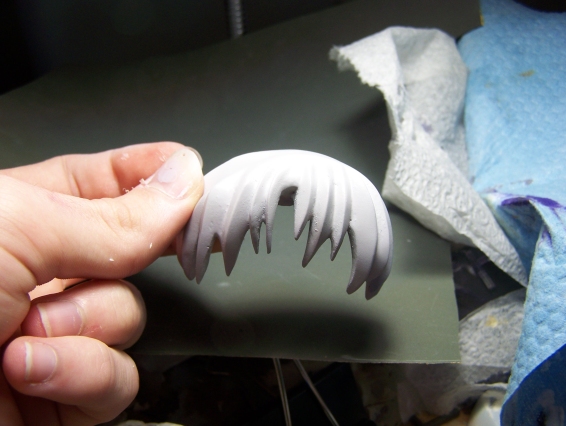 Finished! all that is left is flat coat. But that can wait till I put some other parts ready for that step.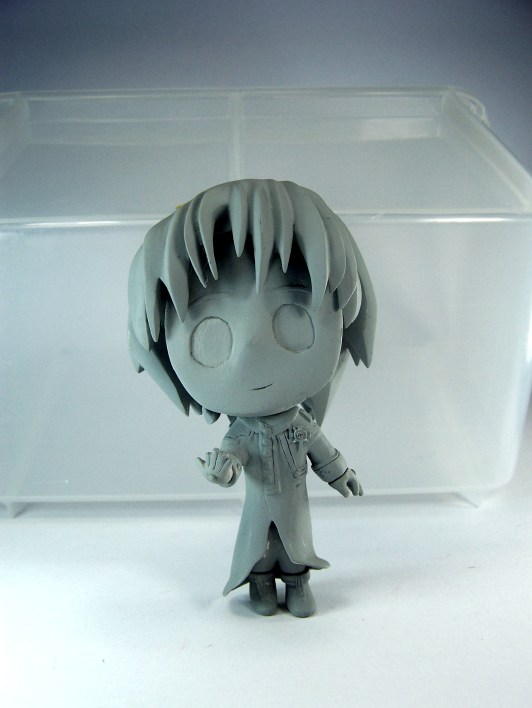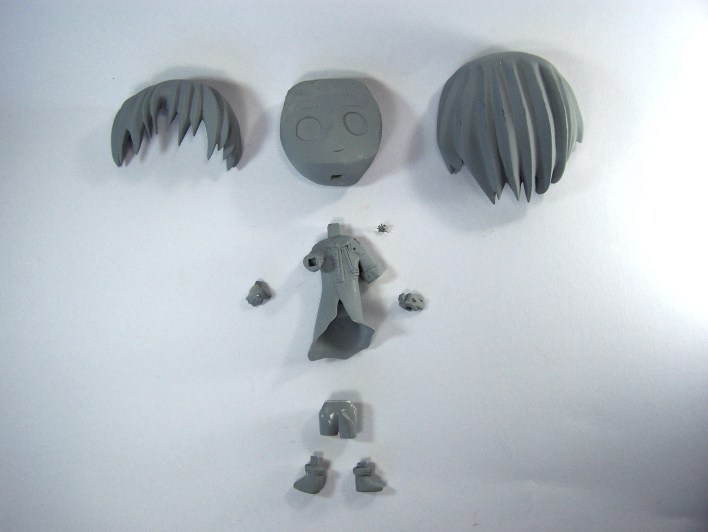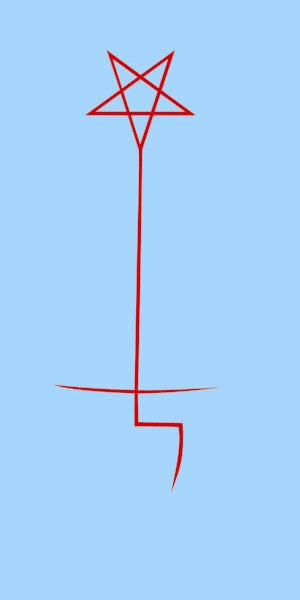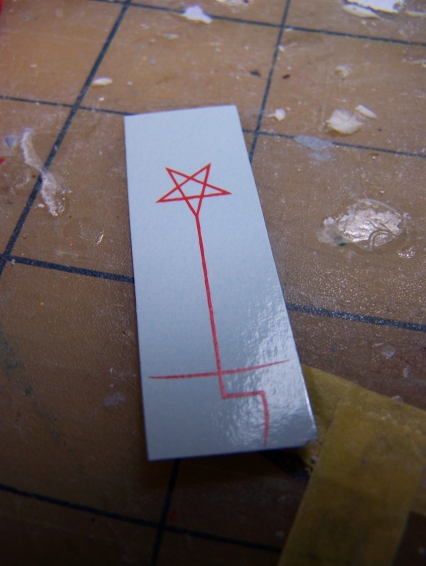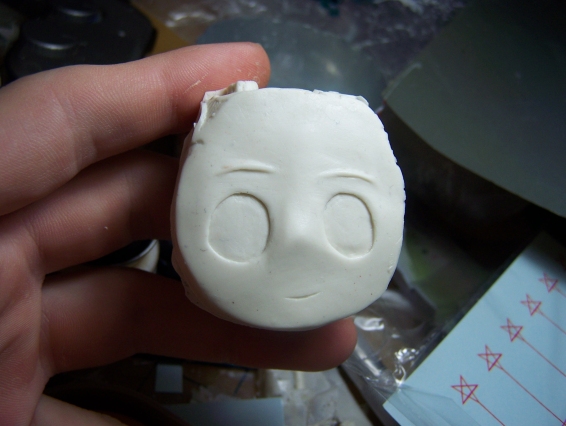 *Image drawn by Suntail-san( www.moaibu.com)*
I am proud to introduce my first ever figure kit!
This has been a secret project of mine that I have been working on for almost a year and a half. So I am Very Excited to finally be able to introduce this kit to the public. I am also Happy to announce this kit will be available to purchase! That is right the first ever Pufferfiz Original kit!
Pieces: 10, plus one decal.
Height: 4"3/4 inches
Resin used: Smooth Cast 321 (off white)
Instructions Provided